Slash's Slasher Film Company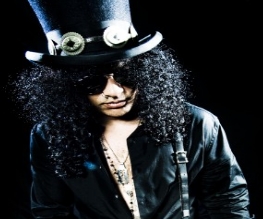 It was only a matter of time before Slash got involved with the movies. I just thank God it wasn't a cameo role in Austin Powers. But this is good. He's only gone and started up his own horror movie production company. TREAT! Oh Slash, let me play with your mane and take off those sunglasses you always seem to wear…GAH, what is this? Devil eyes? Noooo.
Not officially a film, as of yet, but with Guns N ' Roses guitarist, Slash starting up his own horror film production company, I think it's only a matter of time. Or maybe not as I won't be convincing just him of my mega film idea. Slash is teaming up with Scout Productions (makers of Queer Eye For The Straight Guy) who will be developing the screenplays and overseeing the productions, although Slash will also be actively producing.
The beautifully named Slasher Films (I wonder who came up with it) are all set with their first project in tow, Nothing To Fear, a thriller about a family who relocate to rural Kansas but end up having a few troubles concerning a killer demon. Going on that, I wonder what kind of films we are to expect? Well, as Slash wants to aim his films at a "young, edgy, discerning consumers" with a "hint of anarchy", I'm thinking the glam rock of horror. Screaming and squealing with the odd platform shoe used as a weapon againt evil.
I can't wait. I'm just hoping he's going to produce something to fear.
About The Author