Spider-Man: Turn Off The Dark – yeah, it's still rubbish.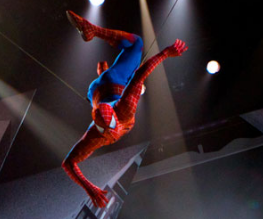 Despite tears of joy, standing ovations, back-patting, speeches and the appearance of Julie "yeah you fired me but we're cool guys, we're cool" Taymor, the opening night of Spider-Man: Turn Off The Dark seemed to confirm what we were all afraid off: it's a bit crap.
After nine years – NINE YEARS – of work, the cursed musical extravaganza finally opened to a star-studded Broadway crowd and, to be fair to everyone involved, no-one died. Peter Parker's story was told, the effects were probably spectacular and Bono wore his sunglasses and joked about how he thought writing the damn thing would take six weeks. The cast talked about how thankful they were that they didn't have to go to any more bloody rehearsals, with Reeve Carney (playing Spidey himself) stating " 'The biggest lesson I learned from this whole process is never to give up. There were many opportunities along the way for many of us to quit, but none of us did.'
Yeah. Well, despite what was obviously a very emotional and jubilant evening, the reviews are out. And, well, let's just say that for nine years -NINE YEARS – of work, they could be more jovial. Fancy a read of a wee selection?
'Two-dimensional characters, unapologetically bad jokes and the kind of melodious rock tunes that those under 12 might be familiar with from listening to their parents' salad-day favourites of the 1980s and '90s.'
– The New York Times
'Not only are the songs forgettable, but they never succeed in generating any dramatic momentum – all they do is get louder.'
– The Wall Street Journal
'The tunes are weaker than the cables that have proved so inconsistent in supporting the performers. Even a U2 sceptic must grudgingly admit Bono can knock out a tune about the most banal subject. But the music in Spider-Man is deadening in its mediocrity, tuneless and forgettable, with rhymes that rarely employ words of more than one syllable. The one musical segment that has any kind of momentum comes when Peter flies, and that is only because the music sounds suspiciously like the opening of Where the Streets Have No Name'
The Guardian
'Despite all the time and money that has have been lavished on it, Spidey actually turns out to be a bit of a bore.'
– Daily Telegraph
We can't help but feel sorry for the poor team, who have been battered and bruised by this monster of a show for years now. Does it deserve the ridicule of the press? Be a friend and fund BFF's trip to broadway to find out…
About The Author