Star Trek Into Darkness gets new release date and trailer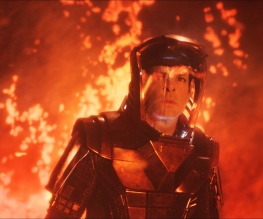 Star Trek Into Darkness, J.J. Abrams's sequel to his first reboot of the Star Trek franchise in 2009, has been given a new trailer to premiere at the Superbowl. The 3D IMAX version of the film has also been given a new release date of May 15, two days earlier than the 2D version of the film on May 17. In the Superbowl spot, we see the U.S.S Enterprise plummeting towards earth and then crashing into the ground. New images of destruction and chaos are not new to the trailers that have already been released, but this is just another teaser to whet the appetite before the film's release this summer. Watch the new clip below.
Star Trek Into Darkness will see the return of Chris Pine and Zachary Quinto as Captain Kirk and Spock, with the addition of Benedict Cumberbatch, rumoured to be playing Kirk's enemy Khan. The 3D IMAX release date was moved as part of a deal made by Paramount, who have shot 30 minutes of the film with IMAX cameras. IMAX customers were shown the first nine minutes of the film before screenings of The Hobbit: An Unexpected Journey last year. IMAX president Greg Foster said "As we saw with the reaction to the first nine minutes of the film, which debuted in our theatres in December, fans are clearly excited by the opportunity to see this epic film come to life in IMAX."
What do you think of the new trailer? Will you see Star Trek in 3D? Let us know below.
About The Author