Star Trek: into Darkness has new teaser trailer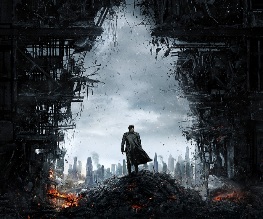 A new teaser trailer has been released for J.J Abrams' Star Trek into Darkness, which is due to be released on May 9. Chris Pine, Zachary Quinto and Simon Pegg  are due to reprise their roles from the previous film, with the addition of Alice Eve and Benedict Cumberbatch to the cast.
The trailer contains fresh footage which we think makes the Star Trek into Darkness seem that much more fun. It is nothing but action packed: we sees Chris Pine's Captain Kirk reprimanded for breaking Starfleet rules and the crew venturing underwater to catch a glimpse of a giant sea monster (which Simon Pegg points at, comically). There's also lots of running and extravagant panning shots of future London, looking much the same as now, but with more high rises and glass.
Exact plot details are unknown at this point but the opening nine minutes of Star Trek: Into Darkness have been shown before IMAX screenings of The Hobbit and a whole 30 minutes from the film has being shown to UK bloggers and critics at the IMAX. The film is reported to be bigger, bolder, but not necessarily slicker than it's 2009 prequel Star Trek.
About The Author