Captain Planet set for big-screen, live-action fame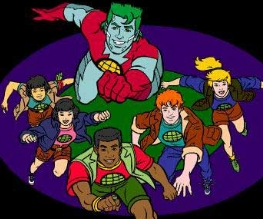 From 1990 to 1996, Captain Planet and the Planeteers launched our afternoons with a bout of industrious earth saving and awesome ass-kicking. The green-haired, blue-skinned superman and his quintet of trusty teenagers were Ted Turner's creation, his way of engaging with youngsters and involving them in the fight to conserve the environment.
In an effort to re-boot the eco-hero for the new generation, Cartoon Network has signed with Angry Filmworks to produce a live-action motion picture based on the kids TV series. This titillating piece of news first hit the airwaves two years ago but little movement or even discussion of the matter has been seen till now.
Angry Filmworks, helmed by Don Murphy and partner Susan Montford, will be best known for their hand in the Transformers franchise but also for the production of such action-adventure flicks as Shoot 'Em Up (with Clive Owen and Monica Belluci), The League of Extraordinary Gentlemen (that effectively retired both director Stephen Norrington and actor Sean Connery) and Oliver Stone's Natural Born Killers.
The company has the exclusive rights to develop and package the property and advance it towards production with Murphy "being extremely excited about bringing the good Captain back to life" and expecting "to make a spectacular series of films with the amazing team at Cartoon Network".
"The messages of Captain Planet are even more relevant today. We feel this team can bring the world's first eco-hero to life in a powerful motion picture that is not only pertinent but entertaining" was what Stuart Snyder, president and COO of Turner Broadcasting System Inc.'s Animation, Young Adults and Kids Media division (AYAKM) had to say. Hope he's right!
So what's your verdict? Great idea or another CGI disaster waiting to happen? How would you like to see this 90's icon updater? Let us know!
About The Author