Star Trek Into Darkness synopsis illuminated at last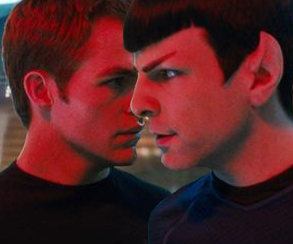 Star Trek Into Darkness has remained shady and ethereal, keeping plot points securely under wraps. No longer! Paramount have revealed an interesting, albeit basic and poorly written, plot summary. There are no major spoilers for Star Trek Into Darkness – Benedict Cumberbatch's villain still isn't named, for instance – but if you wish to be utterly shocked and awed for the first time in the cinema, READ AWAY NOW!
Potential Spoiler Alert, Star Trek fans!
"In Summer 2013, pioneering director J.J. Abrams will deliver an explosive action thriller that takes Star Trek Into Darkness. When the crew of the Enterprise is called back home, they find an unstoppable force of terror from within their own organization has detonated the fleet and everything it stands for, leaving our world in a state of crisis.
With a personal score to settle, Captain Kirk leads a manhunt to a war-zone world to capture a one man weapon of mass destruction. As our heroes are propelled into an epic chess game of life and death, love will be challenged, friendships will be torn apart, and sacrifices must be made for the only family Kirk has left: his crew."
Well, quite. To be honest, it sounds as though an intern at Paramount wrote this. There's not really any details about Star Trek Into Darkness that we couldn't have guessed ourselves. "Love will be challenged" was certainly a bit of a shock, as nothing like that has ever happened in the Star Trek universe, or even in cinema itself. Ever.
We DO know that Benedict Cumberbatch will be responsible for an attack on Star Fleet (the, uh, good guys for all you non-Star Trek fans out there) and has been described as "a one man weapon of mass destruction". Imagine that on your CV. Let's hope the news that he'll play Khan holds up!
Starring Chris Pine and Zachary Quinto, Star Trek Into Darkness travels at warp speed 9 into our hearts in Summer 2013.
What do you think of the synopsis for Star Trek Into Darkness? Is it everything you've hoped for and more?
About The Author