Steve Carell and Toni Collette re-unite for The Way, Way Back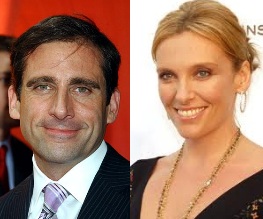 Ever since the supremely marvellous Toni Collette joined forces with the eminently glorious Steve Carell in the undeniably wonderful Little Miss Sunshine, we've been hoping that the two of them would share a screen again. Well GUESS WHAT, KIDS? Dreams really do come true. And Sam Rockwell is involved and all. PRAISE BE.
Carell, Collette, Rockwell, and ALLISON "I'm brilliant in everything" JANNEY have all signed on for The Way, Way Back , a film being written by Oscar winning screenwriters Jim Rash and Nat Faxon (they adapted last year's The Descendants along with Alexander Payne). Set over the course of a summer vacation, it will document the collapsing life of a teenage boy forced to deal with "an inattentive mother and a cheating stepfather". No word one who the angsty teen will be yet – is it too much to ask that the spot gets filled by other Little Miss Sunshine star Paul Dano? Probably yes. Partly because he must be approaching 30 these days, but mostly because it will be difficult enough to get away from the memory of Collette and Carell as brother and sister as it is. Although it wont really, cos both of them willing probably do REALLY GOOD ACTING and it will be lovely.
Basically, this all sounds great. Well done, everyone.
About The Author