Vince Vaughn to star in Rockford Files remake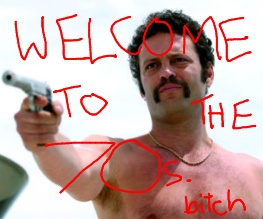 Comic actor Vince Vaughn, who we refuse to call a 'maverick funnyman' or whatever else he'd be dubbed on a lower quality of website, is reportedly set to star in and produce a remake of 70s PI series The Rockford Files.
If you're too young to have seen Jim Rockford doing his thing in the late seventies or too cool to watch reruns, James Garner's character was a wrongfully-accused ex-con who operated his one-man detective agency out of a mobile home parked on a Malibu beach. Sounds riveting, doesn't it? But wait, there's more! Rockwell, who avoided carrying a gun, stuck to "cold cases, missing persons investigations, and low-budget insurance scams" (thanks, Wikipedia) whilst avoiding anything remotely current or exciting. His main trick was the 'Rockford spin' or J-turn, which looks like this (watch from about 1min in):
HOLY BUMPUBES, HE TURNED AROUND WITHOUT STOPPING! Yeah, that's pretty much the whole show. The Rockford Files was intended to be a gritty, up-to-date take on the sort of 'exciting' and 'darkly comic' (my arse) material in Western series Maverick. Whether the reboot will be brought right up to date or kept in the 70s remains to be seen, but thanks to Anchorman and Starsky & Hutch we're more than familiar with Vaughn's ability to pull off outrageous 70s outfits. Shame Jim Rockford always wore dowdy off-the-peg stuff, isn't it? Still, at least he'll be able to go hard with a ridiculous 'tache.
Do you know anything about The Rockford Files? Nah, us neither.
About The Author