Steve Jobs is Ashton Kutcher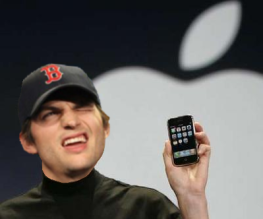 Steve Jobs is a man associated with many things – innovation, business, the computer age, hidden camera prank shows, noughties stoner comedy… OH NO, I'VE MISTAKEN STEVE JOBS FOR THE EX-FLOPPY-HAIRED-BOY-TOY ASHTON KUTCHER. Surprisingly, a mistake easier than you might think considering the eerie resemblance of Kutcher to Steve Jobs in the first official picture released today of the 2013 biopic.
jOBS will chart the young entrepreneur's rise to fame, fortune, and fones, and is set to close the 2013 Sundance Film Festival. Sundance 2013 will also play host to Joseph Gordon-Levitt's directorial debut, Don Jon's Addiction, and Amanda Seyfried as porn star Linda Lovelace. Pictures have already been snapped of Kutcher filming in Steve Jobs' signature outfit: black turtleneck, blue jeans and white trainers, provoking wide-spread excitement and amazed shouts of 'OHMYGOD, HE LOOKS JUST LIKE HIM!'.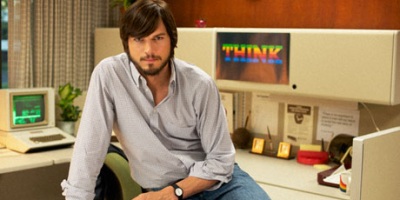 WEIRRRRD, HUH?!
Rumours have it that a second Steve Jobs biopic, scripted by The Social Network's Aaron Sorkin and based on the original biography by Walter Isaacson, is in the Sony pipeline for release in a few years time. So hooray and huzzah, because this means we'll all have our Steve Jobs fill of technology and 1980s facial hair into the foreseeable future.
Whilst we have no doubt that Ashton Kutcher will rise to the challenge, who would you like to see as Steve Jobs in the potential Sorkin/Sony biopic?
About The Author