Super gets confirmed release date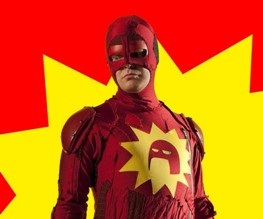 It has been confirmed that writer/director James Gunn's exciting superhero-themed black comedy Super will hit cinemas on April 1st, 2011, adding another hot date to next year's release schedule
Looking to be a dark but hilarious take on the superhero formula, Super stars The Office's Rainn Wilson as Frank, aka "The Crimson Bolt", an ordinary man driven to fight crime after his wife (Liv Tyler) leaves him for a smooth-talking drug dealer, played by Kevin Bacon.
Gunn has experience of dark humour with 2006 horror/comedy Slither providing some sick body horror with a tongue-in-cheek homage to the B-movies of old.
With a star-studded cast also featuring Ellen Page and Nathan Fillion, this project is certainly one to look out for, meshing comedy with a healthy dose of sporadic violence as the clip below shows. Hopefully this will be able to avoid the obvious comparisons with Kick-Ass and give us an entertaining and original take on the ever-popular superhero genre.
About The Author