Superman to be "serious" says Zack Snyder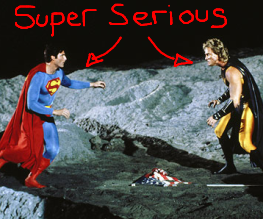 Superman will be much more serious and realistic in Man of Steel, claims director Zack Snyder. The central criticism of Superman as a character in today's jaded and cynical world is that he's just too powerful, too perfect and too boring. Zack Snyder is seeking to change all that, making a grittier Superman to match the darker tone set by Christopher Nolan's Batman.
In Zack Snyder's own words:
"It's a more serious version of Superman. We took the mythology seriously. We take him as a character seriously. I believe the movie would appeal to anyone. I think that you're going to see a Superman you've never seen before. We approached it as though no other films had been made."
Thank God. Every film in the series after Superman II hovers between Bad and Fucking Awful. Do you remember Superman IV: The Quest for Peace? When Christopher Reeve fought Nuclear Man on the moon? Fucking awful.
Zack Snyder's comments give us quite a lot of hope that The Man of Steel will actually be an engaging and enjoyable affair. This is clearly a man who cares about the character of Superman and hopes to do him justice. It is admittedly a difficult job to take a Golden Age superhero and make him feel modern and fresh, but hopefully Man of Steel will do just that.
It looks as though The Justice League film will be filled with crying emo superheros. For a different DC Universe Super Team, check out Guillermo del Toro's lastest (mis)adventure, Heaven Sent.
The reboot of the Superman franchise is set to hit us in the face with the force of a thousand suns when Man of Steel lands June 2013
How will Zack Snyder make Superman more serious and vulnerable? Will he adopt Power Girl's weakness of an allergy to wood? Only time will tell!
About The Author