Sean Penn to become The Prone Gunman?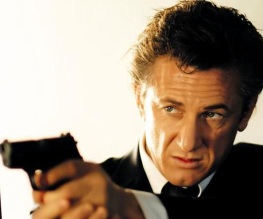 Sean Penn has spotted a niche in the market and has seemingly decided that he's to become an action star. Realising that there are simply not enough cinematic renditions of world-weary assassins, Sean Penn is in talks to allay our thirst and star in an adaptation of French thriller The Prone Gunman. Of course, this is Sean Penn we're talking about. Expect the body count to be relative to the amount of one-liners and explosions.
Running parallel to Vince Vaughn's recent decision to play out a mid-life crisis in an upcoming series of turgid-looking actioners, Sean Penn's apparent deferral to trigger-pulling is a little more believable. He might be as surly as Vaughn, but he's definitely not a clown. We can't quite envision him descending through a glass-roof with M16s akimbo, but Sean Penn knows how to do inner turmoil. With that in mind, a look at the anguished assassin that is The Prone Gunman further cements our suspicions that it might not be such a surprising choice for the ex-Mr. Madonna.
A killer who wants out of the game so he can settle down and tie the knot with his childhood sweetheart, The Prone Gunman thankfully doesn't trade entirely in ancient clichés. Supposedly with a leftist political bent (oop), the book boasts a thoughtful angle on the human condition and even a little light existentialism to boot. We did say it was French.
Dredd 3D helmsman Pete Travis is attached to write, but The Prone Gunman has yet to fill the director's chair. While it might seem a little left of the norm for such a rote storyline, let's hope Sean Penn sees Anton Corbijn's comatose The American as a cautionary tale. From the few details at this point, The Prone Gunman sounds worryingly familiar. Vis-à-vis Corbijn's sleeping pill, we yawned so hard George Clooney looked visibly hurt when we opened our eyes. Sean Penn mightn't be quite as forgiving an assassin.
About The Author