Tarantino Faces Kill Bill Lawsuit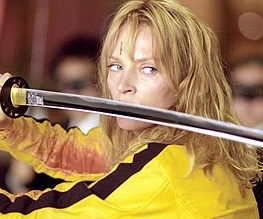 Oh dear. It looks like it's not only "The Bride" who's out for revenge when it comes to Kill Bill. Quentin Tarantino is being sued by a man named Dannez Hunte, who claims that major plot-points for the Kill Bill films came from a treatment he submitted to Miramax in 1999.
He says his story outlined the idea of a character named Ren, who witnesses her mother's murder. 2003's Kill Bill Vol 1 features a character named O Ren Ishi, played by Lucy Liu, who suffers a similar fate as a young child. He goes on to claim he applied for a job at Miramax but "was never given a return phone call, as numerous similar situated less qualified Jewish and white people were bestowed job after job after job". It all sounds a bit wishy washy to us, and only time will tell whether this lawsuit holds up under scrutiny.
So far Tarantino has declined from making any statement about the accusations, but along with The Hurt Locker lawsuit announced last week, March is proving to be quite a month for alleged stolen ideas. Will anything come of the cases? We'll have to wait and see..
About The Author