Tarantino teases new Western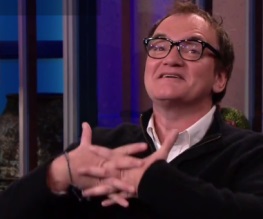 Quentin Tarantino has hinted that he may make another Western following the enormous success of last year's Django Unchained (which was, we'd like to point out, our number one pick for films to see in 2013).
Speaking to Jay Leno, the Oscar-winning foot fetishist (who currently looks like a fat Danny Boyle, as demonstrated on the left) revealed that: "I haven't told anyone about this publicly, but I will say the genre. It's a western. It's not a Django sequel, but it's another Western. I had so much fun doing Django and I love westerns so much, that after I taught myself how to make one, it's like 'OK, now let me make another one now that I know what I'm doing.'"
With the exception of the two-parter Kill Bill, Tarantino has flitted incessantly between genres since the gangster films that made his name. He's also got a habit of announcing films that never end up happening (remember Kill Bill 3, or the Pulp Fiction prequel? Yeah.), so it's best to take this with a pinch of salt. But if Quent really wants to make another Western, we're not going to stand in his way.
Would you like to see Tarantino make another Western, or attack a different genre? Let us know below!
About The Author