Taylor Lautner For Indie Drama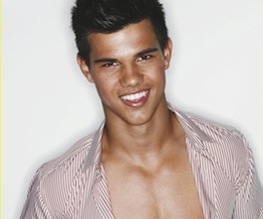 Taylor Lautner has proven he's semi-okay as a topless, love-addicted werewolf in Twilight. We've seen him do something similar (minus the werewolf bit) in Valentine's Day. He's also shown us that he can be equally rubbish… ahem, we mean 'talented', in Abduction. So what's next?
An untitled indie drama, that's what!
Taylor has been criticised as being the sort of teen heartthrob for whom acting is "simply another inaccessible polysyllable" (courtesy of John Underwood). Which is why I'm sure everybody will be happy to know that he won't just be acting in Gus Van Sant's upcoming project, he'll be taking on a producer role as well. Nice of him to spread his wings, right?
If that wasn't enough, the film is said to be based on an article from the New Yorker. An article that Lautner himself optioned. Is there anything this guy can't do?
At least he won't be writing the script; it's a safe bet that Dustin Lance Black will be taking on the task of the WONDERFUL WORDS, as he was recently seen having dinner with Gus and Taylor. And you can bet that was for business rather than pleasure…
Are we being unfair? Do you think Taylor 'Toned Abs' Lautner has a promising acting career ahead of him? Let us know below.
About The Author