Taylor Swift isn't Tom Hooper's Eponine! Someone good is!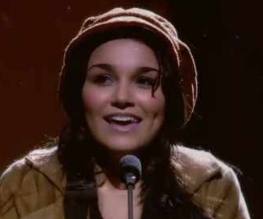 Hold the banner-waving phone here guys. We thought this was done and dusted – we thought that there genuinely couldn't possibly be any more casting news for Tom Hooper's Les Miserables, but it turns out we didn't count on FALSE casting news! Yay! Endless!
A few weeks ago we foolishly trusted Twitch Film when they told us that Taylor Swift had been offered the role of Eponine in Hooper's musical, but either she turned it down (hurrah!) or it was a massive lie (whatever, hurrah!) because it turns out the role is going to Samantha Barks! YAY! Who? WE KNOW RIGHT! YAY!
Those of us in the UK might know Miss Barks as one of the contestants on the "find me a Nancy with Andy Lloyd Webby" show I'd Do Anything. Since leaving the show she's performed in a goodly few professional musicals, including playing Eponine herself on London's West End. Basically, this all means that she's proper talented. Whew.
The best thing of all is how she heard the news of her casting: currently playing Nancy in the Manchester Palace theatre's production of Oliver , she was rather surprised when producer Cameron Mackintosh appeared on-stage at the end of the show announcing to all present that she would be Hooper's Eponine. It's enough to make your heart sing the music of a people who will not be slaves again, isn't it?
OK. We're pretty sure we're done now. We've got Hugh Jackman (Jean Valjean), Russell Crowe (Javert), Anne Hathaway (Fantine), Eddie Redmayne (Marius), Helena Bonham Carter (Madame Thénardier), Sacha Baron Cohen (Thénardier), Amanda Seyfried (Cosette), Aaron Tveit (Enjolras) and now Miss Banks. Get filming Tom! Let's get this castle down from the clouds!
About The Author