Team New Year's Eve create laziest poster ever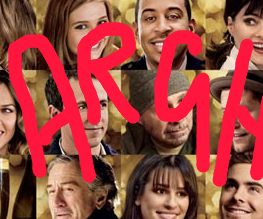 Now, we get that New Year's Eve isn't exactly a vehicle for stunning creativity, crippling originality or even anything that can't be sold via a Stunning New Fragrance or Lovely Yoghurt or whatever, but surely the façade has to be upheld by the team itself, or the whole thing falls apart? Apparently not. After giving us a trailer chock-full of star power and very little else (a Pink soundtrack no longer counts as a decision), it seems that they've decided to employ a similar technique for their poster. The result? A HANDY FAMOUS PERSON GRID.
Look at it. It's so horrible.
At least the Valentine's Day utilised a HEART SHAPE in some semblance of awful pseudo-creativity. THIS DOESN'T EVEN HAVE A SHAPE. IT JUST EXISTS, A SERIES OF DEAD EYES DIRECTLY TRANSFERRED FROM THE PAYROLL SPREADSHEET.
Urgh. And we'll still somehow all end up watching it, won't we? I blame Bon Jovi.
About The Author