The Amazing Spider-Man gets first trailer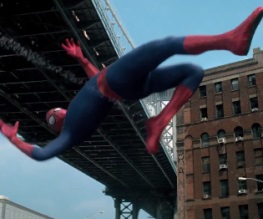 It's safe to say The Amazing Spider-Man proved somewhat divisive when it opened to mixed reviews back in 2012. For those who could accept Marc Webb's reboot of the Spider-Man story, however, the film offered charismatic characters, physical comedy and diverse action sequences that in many ways improved upon Sam Raimi's original — and now sadly outdated — trilogy.
Webb and Spider-Man (played in this new series by Andrew Garfield) are set to return for the sequel next year, and today audiences got their first substantial glimpse of the film they can expect to see. Whereas early reports and the first scattering of stills hinted at a smaller rivalry between Spider-Man and Elektro (played by Jamie Foxx), the new trailer suggests the story will in fact be far grander than that.
It seems that Peter Parker is finally enjoying life – having got the girl and saved the day, he can finally web-sling in relative peace. Until, that is, the return of old friend Harry Osborn coincides with the arrival of a new threat. As Spider-Man suits up and prepares to confront Elektro, he begins to see a common denominator emerging with regards to his enemies: OsCorp, the company owned by Harry's father.
As if that wasn't enough material for the new film, Webb seems to be picking up old threads from The Amazing Spider-Man as well weaving in new ones ahead of future instalments. As such, the trailer features a video message from Peter's absent father, the introduction of Paul Giamatti's Rhino and the suggestion that disaster may well be afoot, most likely at the hands, wings and tentacles of the Sinister Six. It's an action packed trailer, but importantly it finds time to showcase the same spirit and humour that makes Spider-Man such an enduring (and endearing) hero.
The Amazing Spider-Man is due for release next April. What did you make of the trailer?
About The Author