The Avengers gets a new title, for some reason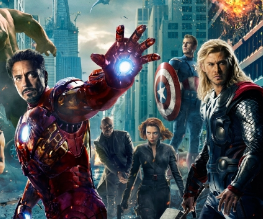 You remember The Avengers, right? All the McDonalds toys we've come to associate with big-budget blasty-fun, and also Scarlett Johansson's arse, for some reason? A couple of weeks ago we got a new trailer, in which The Hulk smashed the seven shit out of basically everything and Robert Downey Jr was all pithy in the direction of Chris Hemsworth? Well apparently when it ended with the words "The Avengers", what they actually meant was "Marvel Avengers Assemble". Sure.
A new UK poster has appeared for the release, and it looks like the title has changed. As yet we're not totally sure as to why Marvel felt that The Avengers might be too confusing a title for UK audiences – is it really likely that anyone is going to be confusing it with a 1960s spy-drama of the same name? Still, here it is, make of it what you will:
We reckon they might as well go the whole hog and call it Marvel Avengers Assemble In A Film, It's Nothing To Do With That 60s Programme, So Please Come And See It. Robert Downey Jr Is In It And You Know You Love Him! No, He's Not Playing Sherlock Holmes This Time, But There Will Be So Many Close-Ups Of Scarlett Johansson's Arse You Won't Even Know What To Do With Yourself.
Catchy, eh?
About The Author