The Better Man teaser hits the web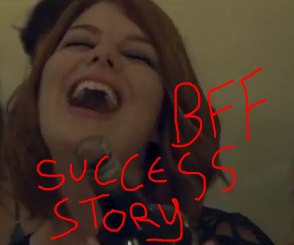 Right, full disclosure: regular BFF writer Duncan Vicat-Brown co-stars in forthcoming UK comedy drama The Better Man. Ex officio editrix Tash Hodgson's excellent band Felix Hagan and the Family provides the soundtrack for this trailer. If you're looking, you might also spot former intern Caroline O'Donoghue (now the editor of the brilliant Work in Prowess) gurning uncontrollably like a fish flapping away its last few seconds in a draining tide pool.
But it still looks fucking great.
Seriously, doesn't it look cracking? Production company Bustabowl have sensibly adhered to the vital 'Three Fs' rule laid down by inaugural AMPAS president Douglas Fairbanks Sr, and it looks like there'll be no shortage of either fanboys, Facebook or fingering in the complete film. Directed by Matthew Tindall and Josh Bennett from a script by Tom McInnes, the aforementioned Caroline O'Donoghue and Richard Wallace, The Better Man was funded on Sponsume and shot last autumn, in preparation for festival entrance in 2013. Needless to say, once we know when and where you can see the entire film we'll let you know.
What do you think of the trailer for The Better Man? Let us know below!
About The Author