The Big Year trailer has landed!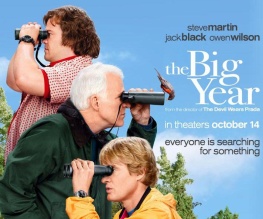 Good news, people of the world. The trailer for David "The Devil Wears Prada" Frankel's upcoming comedy The Big Year has arrived after what feels like years of anticipation.
They're really covering all bases in this film. You've got your old white American man (Steve Martin), your younger white American man (Owen Wilson) and your fat white American man (Jack Black) and they all love birds. There's literally something for everyone! "I'm worried no one will like this film. LOL JK EVERYONE WILL LOVE IT!" – David Frankel.
This trailer really does have all the key moments, though:
– Fake beginning: "Oh what is this? An action film right? Because of the music and the…OH WAIT HAHAHAHAHAHA IT'S ABOUT BIRDS"
– Big promise: our fave three no-hopers are going to have a Big Year (bonus points for squeezing in the title) "This is tense now that they've made that promise to have a big year"
– Hilarious moments: people falling over! Jack Black doing a victory dance! "Omg so funny!"
– And the serious line: "Most people wake up one day and realise they didn't do all the bird stuff they wanted to do". Both touching AND true to life!
But you know what the most offensive part of this trailer is? Right at the end when Jack Black says "this is great, unless a freak blizzard happens" and then it cuts to a freak blizzard. You know what, that's OK. But then Jack Black says "I shouldn't have said that thing about a blizzard. I jinxed it." WE GOT THE JOKE. Come on, people.
So are you as excited for The Big Year as we are? Let us know below!
About The Author