The Death Of Cinema? Not According To The Stats!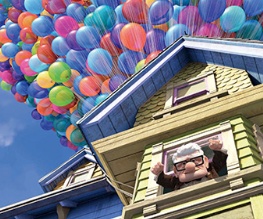 Praise the Lord! According to figures released today from the UK Film Council, 2009 had the highest cinema attendance in the last six years, with over 170 million people visiting their local theatre. This means that contrary to popular prediction, the film business is alive and booming. In your face Megavideo.
Doom-and-gloom mongers have spent the last few years bemoaning the future of cinema, worrying that the growth of home downloads and piracy meant that no-one would bother with the theatre experience. We are happy to report that this is not the case. 2009 was a great year for cinema in Britain, with massive blockbusters such as Harry Potter and The Half Blood Prince, Slumdog Millionnaire and, of course, Avatar, securing cinema a place in our stony British hearts.
The 3D phenomenon has done a lot to inject life into the cinema scene, with new and unique special effects bringing back the 'experience' of the cinema trip. Not only Avatar, but Bolt, Up and Monsters Vs. Aliens saw millions of kids and big kids alike flocking to the theatres, special specs in hand, to enjoy the wonder that is 3D CGI.
It seems that in a world gripped by reccession, more and more people are seeking escape in the bright lights of the cinema, and with so many brilliant films out last year, we can't say we're surprised. Will 2010 be equally successfull? Only time – and expensive Hollywood marketing – will tell.
What was your favourite cinema outing of 2009? Will 2010 match the success of last year? Let us know your thoughts below…
About The Author