The East debuts chilling trailer and poster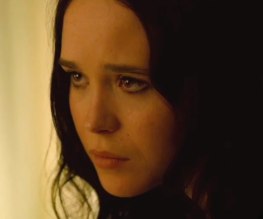 We don't know a whole lot about The East, but that's probably how they like it. Zal Batmanglij's second feature follows in the footsteps of 2011's widely praised but barely seen Sound of my Voice, once again conjuring a murky underworld which the audience must explore along with his frightened protagonist. But where Sound of my Voice dissected the appeal of the doomsday cult (as led by co-writer Brit Marling, playing a time traveller – or is she? – from 2054), The East has set its sights on an even more intimidating subculture.
The East, which premieres at Sundance this week and will, happily, receive a proper theatrical release, stars Marling as a former FBI agent who turns to the private sector and is instructed by her boss (Patricia Clarkson) to infiltrate the anti-corporate underground in Washington, DC. Marling finds herself drawn into the machinations of The East, a group of hackers, saboteurs and general troublemakers who have pledged to make the fiscal kings of the global village pay for their crimes against humanity and the environment. Alexander Skarsgård and Ellen Page play key members of The East, and it's Page's character Izzy who narrates the first trailer for the film. Check it out below:
Blimey. It's not often you see an espionage type film that's convincingly shot like a horror, but it looks like The East will ride on the same premise which has fuelled dozens of home invasion films – whoever you are, wherever you live, whatever you do, you are not safe. Batmanglij and Marling have proved themselves to be a powerfully talented duo, and the addition of Page (whose ability to intimidate and terrify is in no doubt after Hard Candy) and Skarsgård (who will almost certainly do what he does best by providing Marling's character with a romantically-fuelled dilemma) suggest great things. There's a new poster, too – have a look below and, as ever, click to enlarge.
We're thoroughly excited about The East, as you've probably picked up. It's just a shame that it's being distributed by the second-biggest media group in the world, isn't it? Those fat cats, they'll get you in the end…
What do you make of the trailer for The East? Let us know below!
About The Author