Lance Armstrong biopic planned by J.J. Abrams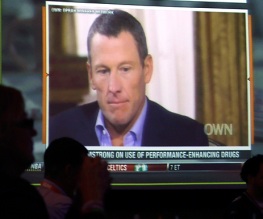 It has been reported today that Paramount and J.J. Abram's production company Bad Robot have secured the rights to make a film based upon an upcoming book about Lance Armstrong called Cycle of Lies: The Fall of Lance Armstrong. The book will be written by New York Times sports reporter Juliet Mecur, who has covered the career of the disgraced cyclist for more than a decade, writing about his recovery from cancer, through his seven Tour de France wins, and now the doping allegations, denials and most recent public confession on the Oprah Winfrey show.
The Armstrong saga is one that could have been very embarrassing for Hollywood, with Sony Pictures sitting on a biopic involving the cyclist's friend Jake Gyllenhaal no doubt intending to provide the movie-going public with a portrait of super-human glory and triumph over adversary. I bet there are quite a few execs who feel as though they've dodged a bullet with that one, so to speak. Naturally, that project has withered inelegantly on the vine, firmly rotted away now that the scoundrel has confessed all. It looks unlikely that Sony will turn it around now that Cycle of Lies has been snapped up. One can only imagine the wrath of the Lance fans who have been supporting him over the years now that his deceit has been unveiled. Can you hear the sound of the knives sharpening all over Tinseltown? Ouch, someone stop my ears.
Expect speculation about cast and crew to begin immediately. Contenders already for the role of the leading liar, purely based on looks and hearsay, include Ryan Reynolds (see it?) and Joseph Gordon-Levitt. Personally, I can imagine Ralph Fiennes could do rather sinister turn if we are to go down that route. Or DiCaprio for sinister, yet with a dash of flawed misjudgement thrown in.
Do you think Hollywood has jumped on the BURN ARMSTRONG bandwagon with indecent haste? Or is now the time to destroy him on screen, when the mob is baying to get into the cinemas? LET US KNOW
About The Author