The final Harry Potter trailer is the best thing that's ever happened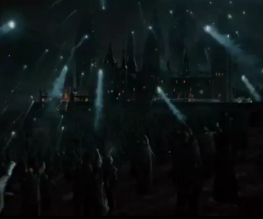 It's finally here. The last Harry Potter trailer you or I will ever see. Say what you like about The Boy Who Lived, but he's always managed to put on a rather marvellous show, trailer-wise. Are you ready? You're not. Go and have a little run around, eat some meat and get back to us – seriously, you're about to experience the most exciting two and a half minutes of your life. Including those ones where you didn't have any clothes on.
Ready your nerves, take your place among the battlements and prepare for the battle that will end it all. This is one of the best trailers we have ever seen.
More than anything else, it's the lines of dialogue that permeate the MUSIC MUSIC SO MUCH MUSIC AND DRAGONS that hit us the hardest – "we've kept him alive so he can die at the proper moment", "MAN THE BOUNDARIES! PROTECT US!", "tell them what happened that night! How you looked him in the eye, a man who trusted you, and killed him!"
Music, special effects, flash-backs, dialogue, pacing – it's rare they all come together with such utter style. Sorting Hats off to Warner Brothers, this trailer is a master-class.
Anyone else need to change their snitch-themed pants?
The countdown starts now.
About The Author