The Hangover Part III will start shooting in September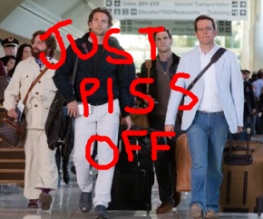 Will it never end? The inevitable Hangover threequel will begin shooting in September of next year, according to star Bradley Cooper.
Speaking on the Graham Norton Show, Cooper revealed that writer-director Todd Phillips is working on the script for The Hangover Part III, which has been looming like a shadow on an X-Ray since its critically derided predecessor grossed close to $600m worldwide.
However, a tiny frisson of variety may be in the air after Cooper opined that the 'wake up in [notoriously debauched city] in a drunken haze and track down missing [insert person] with the dubious aid of [insert comedy animal/infant]' formula may be varied for the threequel. "I think it'll take place in L.A. and not adhere to the structure," he said. "It might be different."
Co-writer Craig Mazin has previously suggested a variety of directions for the third film, including a Fight Club-style set-up which reveals that Bradley Cooper, Ed Helms and Zach Galifianakis' characters are all projections dreamt up by the famously underused Doug (Justin Bartha), who's "…a sixty-nine year old Vet, he only has one leg… It's a little bit like Jacob's Ladder." Well, that'd be different.
Do you think Warner Bros would dare mess with a winning formula? Let us know below!
About The Author