The Hobbit's dwarves arise from the depths of Middle Earth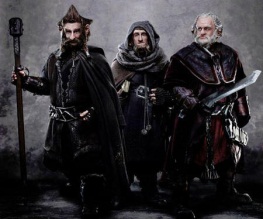 It has been eight long years since Peter Jackson's adaptation of the sword-wielding, arrow-firing, axe-swinging masterpiece The Lord of the Rings: The Return of the King was released and since then all had been quiet in Middle Earth.
But with the news that Peter Jackson was returning with The Lord of the Rings prequel, The Hobbit, beacons of light shone once more. Clearly the man has an obsession with mythical, magical genius J.R.R Tolkien…we can relate.
And now with filming well underway for the world's return to Middle-earth, the release of this enticing press shot is undoubtedly mouth-watering.
We LOVE it! And although we personally we wouldn't wear the outfits to the pub, for Middle Earth it's spot on!
The men behind the ass-kicking dwarves are Jed Brophy, Mark Hadlow and Adam Brown.
Watch out for The Hobbit: An Unexpected Journey in December 2012 for a fantastical journey with faces old and new! ALL HAIL MIDDLE EARTH!
About The Author