The Inbetweeners Movie 2 gets green light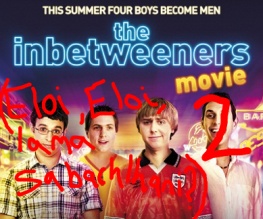 Hear that? That horrible metallic noise? I hope you know what that is. The atonal jangle of each and every pound coin tumbling into the overstuffed coffers of The Inbetweeners Movie's financiers is one more coffin nail being hammered, not into a coffin, but into the face of everyone who liked The Inbetweeners but thought (not unreasonably) that ending on a high à la Fawlty Towers, The Young Ones and The Office would be quite a lot more appropriate than stringing out the franchise forever with a series of increasingly dire movie tie-ins. That's exactly what it is, and if you went to see The Inbetweeners Movie after we told you not to then it's ALL YOUR FAULT.
Following the inexplicable success of The Inbetweeners Movie, in which Simon Bird, James Buckley, Joe Thomas and Blake Harrison's hapless teenage boy characters go on a lads' holiday to Malia, a sequel – in which the foursome will reunite after four years for Neil's wedding and, of course, stag do – has been greenlit. Obviously, the film's made a hundred billion squillion pounds (and spawned yet another rash of 'clunge' jokes), but before it did everyone was in agreement that it was time to let the boys die. Everyone INCLUDING THE DAMN CAST. Here's a quote from James Buckley (Jay):
"No one wants to see The Inbetweeners older and mature. I think it's got to be the end of the Inbetweeners…"
What happened to "the end of the Inbetweeners", James? Incidentally, that's a very nice pair of solid gold trainers that you're stamping on British comedy with. What price integrity, you bastards?
This is not going to be a good week. We're going back to bed.
EDIT: According to the rest of the Internet (including various members of the cast and crew) this 'news' is complete hogwash. We've never been more happy to retract a story. Sorry I was nasty about your solid gold trainers, James.
About The Author