The Inbetweeners Movie gets under way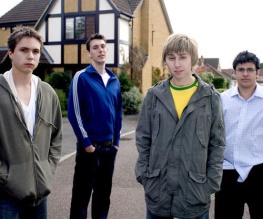 Principal photography for the big-screen adaptation of hit Channel 4 comedy The Inbetweeners, in which the four misfit sixth-formers take a 'lads' holiday' to Malia, is set to begin on Sunday.
Simon Bird, James Buckley, Joe Thomas and Blake Harrison will continue to star, whilst new characters will be joined by small-screen favourites including Mr Gilbert (Greg Davies) and Will's mum (Belinda Stewart-Wilson).
The team behind the award-winning show has assured press that, after three series on E4, The Inbetweeners Movie will be the last time we see Will, Jay, Simon and Neil. It's perhaps just as well – we don't want to suggest that the format's getting tired, but apparently one of the big laughs in the film revolves around Will ending up with sunburn in the shape of a penis. Yep.
The Inbetweeners Movie will probably call you a bumder from August 19th.
About The Author