The New Mirror Mirror poster is the worst thing ever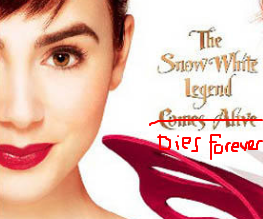 And here we were thinking it was going to be a genuinely interesting fight between Mirror Mirror and Snow White And The Huntsman in the 2012 Fairytale Showdown. Judging by the recent marketing, however, Mirror Mirror isn't so much competing as it is carefully stabbing itself in the legs and torso.
We've already had a pretty dreadful trailer shoved under our wobbling chins, and now that we've had time to recover and say words like "but… but… wasn't that Julia Roberts?", we've been treated to the official poster. And it's absolutely the worst thing. The worst thing that's happened in ages – and in case you've not been paying attention, the Wrath Of The Titans trailer came out yesterday.
Here is it. We genuinely didn't make this. Honestly.
MASSIVE APPLE HAND ALERT! And who is Julia Roberts looking at? We're supposed to believe that ol' snowy face is standing in front of her, and yet Julia's Eyes (lol) are pointed squarely at something next to her. Maybe it's the marketing for Snow White And The Huntsman? Is that why she looks so pissed off? And the horrible spiky tiny font, urgh, it's just, this is just horrible. What's happened here, guys? This film has SEAN BEAN in it, for Christ's sake. WE can (and do) better photoshopping than this. AND WE'RE RUBBISH AT ALMOST EVERYTHING.
This is not a good road we're on here, guys. Mirror Mirror, it's time to take a long, hard look at yourself.
About The Author