The Prometheus trailer finally lands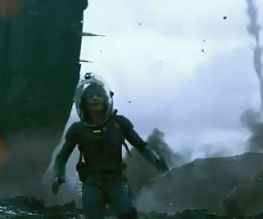 After teasing us all week with tiny snippets, team Prometheus has finally come up with the goods. Just when we thought we were all Completely Epic Trailered out (The Hobbit? The Dark Knight Rises? All in one week?), along comes Ridley Scott to remind us of why he's the master of sci-fi horror.
Take a look – it really is brilliant.
Could it BE MORE ALIEN-y? The music, the titles, the ever-growing sense of oxygen-free dread – Scott can deny the links to his most famous franchise all he likes, but there are no ignoring the delicious similarities. Purposefully avoiding any plot outline (which maybe might come in a later trailer, maybe not), instead what we have here is a action-packed minute of glorious atmosphere-building, topped off with tiny glimpses of very famous faces (Michael Fassbender, Charlize Theron, Roomi Rapace, Idris Elba – we'll stop now before we get all dribbly).
So will actually there be any extraterrestrials present? Scott seems determined not to give away the subject of all this ominous gambit-laying, and to be honest, we prefer it that way. Though we reckon there probably will be extraterrestrials present. You know what we're not so pleased about? The invariable bloody 3D tag (yep, it's there right at the end of the credits shot). You're better than this 3D nonsense, Ridley. You know you are.
A truly marvellous week of trailers. Shall we celebrate by watching Sigourney Weaver make that shot in one take? Yeah, let's do that.
Alright, fine, technically that's not a Ridley Scott film. But it's still pretty bad-ass.
About The Author