People fancy Robert Pattinson in new trailer for Bel Ami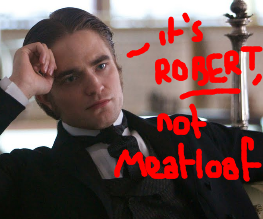 In what must have seemed a pretty risky move, Studiocanal decided to cast serial uggo Robert Pattinson as a womanising skirt-hound in the adaptation of Guy de Maupassant's Bel Ami. Well, the results are here for everyone to see. And it looks like their brave gamble paid off.
A Paris-based tale of sex, betrayal, sex, lovely jackets, newspapers, adultery and sex, Bel Ami tracks the career of soldier-turned-journalist Georges Duroy as he works his way up the career ladder via the ancient art of sleeping with people's wives:
To be honest, this looks like quite good fun. Uma Thurman doing quite passable throaty Britishness, Christina Ricci being all coy, Kristen Scott Thomas being invariably brilliant – what's not to like? Sure, you sort of have to pass over the rather dodgy explanation titles and R-Patz shouting "GET OUT OF MY HOUSE" really loudly – but how else would we know it's not all fun and games, this shagging malarkey? Shagging is difficult, you know. Poor R-Patz.
Bel Ami hits our screens on the 2nd March 2012 – so we've got until then to limber up for a lengthy session…
About The Author