The Road producers buy Cormac McCarthy script The Counselor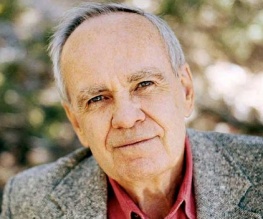 Nick Wechsler, Steve Schwartz, and Paula Mae Schwartz, the producers of post-apocalyptic drama The Road, have bought a new spec script by Cormac McCarthy. Which is good.
McCarthy, whose Pulitzer Prize-winning novel The Road was adapted into the 2009 film, has produced an original script called The Counselor which deals with "a respected lawyer who thinks he can dip a toe into the drug business without getting sucked down". This marks McCarthy's first spec script since writing No Country For Old Men, a script which eventually metamorphosed into his 2005 book of the same name. The book was then adapted into a film, which promptly won four Oscars including Best Picture.
Speaking to Deadline, Schwartz said that:
"Since McCarthy himself wrote the script, we get his own muscular prose directly, with its sexual obsessions. It's a masculine world into which, unusually, two women intrude to play leading roles. McCarthy's wit and humor in the dialogue make the nightmare even scarier. This may be one of McCarthy's most disturbing and powerful works."
Well, this sounds brilliant. Doesn't it sound brilliant? The project's only now being pitched to financiers so there's absolutely no word on director or cast, but after the success the Coen brothers had with McCarthy's last contemporary drug thriller we can't see them avoiding the rumour mill for long. Mostly because of people writing unfounded things like this paragraph, obviously.
Who would you like to see involved with The Counselor? Let us know below!
About The Author