The Three Stooges gets a new, desperately wearying trailer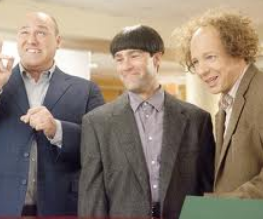 If we start off by telling you that the new trailer for the Farrelly brothers' take on The Three Stooges is inspired by Jackass, you're probably got to have a pretty good idea of just how relevant this is to a 2012 audience. Destroying treasured memories of classic slapstick comedy world-wide, this looks like another throwaway bit of nonsense from the creators of Shallow Hal, Stuck On You and Hall Pass.
Here you go. At least the slutty nuns don't feature in this one.
God we miss the slutty nuns.
Thing is, we're just not sure who on earth this is going to appeal to. If you're a die-hard Stooges fan, you'll surely just prefer watching the original comics (Moe Howard, Curly Howard and Larry Fine) in action, and if you're not fussed about them it's difficult to see what exactly placing very traditional slapstick in a modern setting is going to do for you. Will Sasso? Is Will Sasso a guy we need to keep an eye on, really?
You tell us. Excited about this? In any way?
About The Author