The Wolverine delayed as Jackman pursues singing career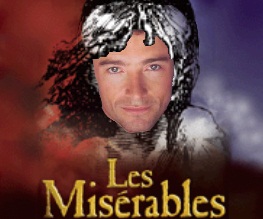 Despite planned filming locations being compromised by the Japanese earthquake and director Darren Aronofsky flaking out earlier this year, Fox are reluctant to throw in the towel with The Wolverine. X-Men Origins: Wolverine took around $400 million worldwide, which might explain their determination.
As if those initial tremors (sorry, that was cruel) weren't enough, the production of The Wolverine has been shoved from a start date in Autumn 2011 to some time in 2012, and we all know the world will have ended by then.
The latest setback comes in the form of Hugh Jackman placing his claws aside and donning a cloak and rapier for his part in the latest Les Misérables film. Hugh boasts theatrical credentials aplenty including a Theatre World awards for Best Actor in a musical for his portrayal of the 1970s singer-songwriter Peter Allen in The Boy From Oz. Hunky.
The masculine Hugh told Toronto's 98.1 CHFI "I have always loved musicals so I would love to do one of those one day – and it looks like that's coming true, because I'm going to do Les Misérables the movie musical next year".
We forgive you for delaying Fox's next big thing, Hugh, as you have just come one step closer to being the perfect man. Never change.
About The Author