Thor gets hella stroppy in new Avengers TV spot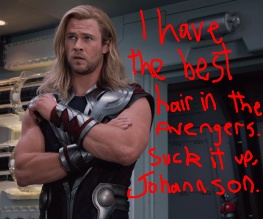 There's no two ways about it, Joss Whedon is actually trying to piss us off now. It's almost as if he didn't read yesterday's bitter Avengers Assemble article, in which we begged him to stop releasing stupid titbits of Avenging nonsense and further alienating his trying-to-be-loyal fanbase. And realistically, there's no way he didn't read it because (just in case you missed our twelve thousand smug tweets) we're in the Guardian this week and everything. BOOYA.
In this clip, which stars Chris Hemsworth as Norse L'Oreal advert Thor, everyone gets a bit antsy and then the man himself electrocutes the Chrysler building because he doesn't want to kill his greasy little brother. Or something. Just watch it, if you want:
The film is out SO SOON, Joss. Please just let us get excited about it at our own pace. Sigh.
Do you want to see loads more clips of Marvel Avengers Assemble? Why? You're an idiot.
About The Author