Tim Burton Makes More Boring Decisions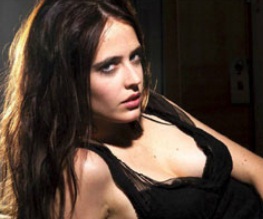 Alright, maybe that's a bit harsh. After hearing the news that Tim Burton is finally ready to roll with his adaptation of Dark Shadows – a 60s horror series that's been in the works for years now – it wasn't exactly surprising that Johnny Depp was the first cast member to be confirmed. He'll be playing a vampire by the name of Barnabas Collins, and will probably spend quite a lot of the film either gazing manically into pointy rooms and/or wearing trousers with stripy braces. Anyway, it's been revealed who will star opposite him – Casino Royale siren Eva Green. Wait, Helena wasn't available?
We have to admit, its difficult to be disappointed about the fact we'll be seeing more of the gorgeously smouldery Miss Green, especially seeing as she's been away from the big screen since her romp with Mr Bond. But really, Tim Burton? Another dark-eyed, pale skinned, cheek-bone-tastic heroine? Aren't you tired yet Tim? Aren't you tired of making the same film? You know what Dark Shadows needs? Vinnie Jones. Vinne Jones as a jet-ski instructor. Want your edge back Tim? It's the only way.
About The Author