Tomb Raider re-boot is on the cards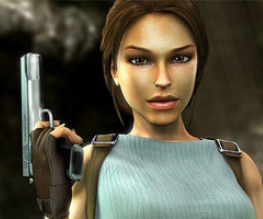 When it becomes clear that a film based on a video game is a commercial and creative failure, what's the best thing to do? Make it AGAIN, of course! Despite the fact that Lara Croft: Tomb Raider and Tomb Raider: The Cradle of Life were both screaming flops buffered only by the cushiony lining of Angelina Jolie's lips, it seems that Hollywood is willing to give the franchise another try. Sigh.
GK Films (productions include The Young Victoria and The Tourist) have apparently bought the rights to a feature film adaptation of the classic game. Starring the almost inconveniently busty archeologist Lara Croft, Tomb Raider is essentially a shameless 14 year old wet dream set in a variety of stoney-sandy locations. Produced by Graham King and Tim Headington, the plan is to have a new film in theaters by 2013. Oh good.
So, if Angelina Jolie can't make this heroine work, who can? Seriously though, if ANGELINA JOLIE can't make this heroine work, WHO CAN??
About The Author