Torrent of new pictures from Prometheus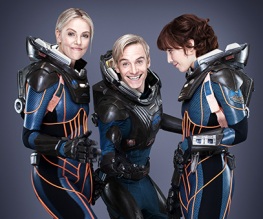 With just a couple of weeks to go until Ridley Scott's Prometheus (rated 15) hits UK screens, a couple of dozen new images have surfaced in Entertainment Weekly. We don't propose to repost all of them, because there are lots of fairly humdrum character profiles and so on, but here's a juicy selection of our favourites. Oh, and that one on the left? Fairly sure they're just pissing about.
Click to enlarge, as ever:
"Seriously, it's this big. Didn't you see Shame?"
WOMEN LOOKING INTENSE
Can we just see the film now, please?
Prometheus is out on June 1st. Will you be seeing it? Let us know below!
About The Author