Total Recall – Recalled!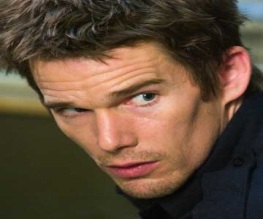 Hollywood seems to be running out of ideas with their recent spree of remakes, and it appears that nothing is safe. We were already aware that Len Wiseman (Of Die Hard 4.0 fame) has taken over Total Recall. , but it's looking like he's doing very strange things to it…
The cast so far has been impressive with Colin Farrell taking over Schwarzenegger's role as Quaid and Bryan Cranston set to play the villain. But today is sprinkled with confusing news; Ethan Hawke has been confirmed for an undisclosed cameo, and we just assume that when they say "undisclosed" they mean "three-breasted alien". Here's hoping.
With the original based on the classic Phillip K. Dick novel "We can remember it for you wholesale" and the remake based on the original there are going to be some noticeable changes. In order to make the film more realistic (why?) all the action will take place on Earth between the two Nation States of Euromerica and New Shanghai and Wiseman is also doing away with martians (there goes Ethan's perfect role). This remake could go either way.
About The Author