Texas Chainsaw Massacreboot to be awful, obviously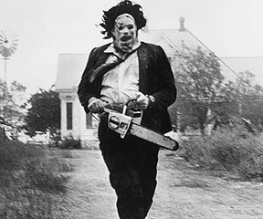 Fresh from flooding our cinema screens with SEVEN bloody Saw films, Lionsgate has inexplicably decided that what the world needs is a passel of sequels to horror classic The Texas Chainsaw Massacre.
The 1974 original, which is recognised as one of the most significant horror films ever made, has already spawned three sequels (notable for containing early performances by Viggo Mortensen, Matthew McConaughey and Renée Zellwegger) and two dire attempts at a Noughties reboot. Won't that do? Please?
Apparently not. The Texas Chainsaw Massacre 3D (of course 3D) is set to begin shooting next month, with Takers director John Luessenhop reportedly in talks to direct and Lionsgate well within their rights to make up to six sequels to the original film. So that's six sequels to a film which, as it stands, boasts three sequels, a reboot and a prequel to the reboot – despite the fact that it's just about some inbred hicks, one of whom happens to have a chainsaw and a silly mask. I refuse to believe that there isn't at least one idea, somewhere in Hollywood, that's fresher than that.
About The Author