Two new and incredibly boring photos from The Amazing Spiderman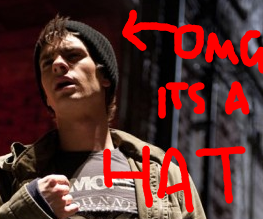 There's a worrying marketing trend amongst the bigger studios at the moment – they seem happy to throw any old scraps of the films they're working on at the internet and watch smugly as the fan-boys go crazy. We've recently been treated to a clapper-board pic from Skyfall , pictures of Kate Beckinsale standing about for Underworld: Awakening and we're beginning to lose patience with the Spider-Man team. New trailer, interviews, costumes, new posters, casting info – we're all over it with drippy glee. But take a look at the below pictures NEW RELEASED TODAY OMG and tell me you've got anything new to say:
OH MY GOD GWEN STACY OWNS AN UMBRELLA! And Peter Parker looks sad at some point! He's wearing… he's… is that a t-shirt? It's a t-shirt. But look at that umbrella though! Is it just us, or is there a scene where it's raining? Just to clarify, we've already had plenty of photos of these two doing nothing. And sure, perhaps the solution is to simply not report these photos – but hey, it's not for us to hold back news of promotional stuff. We just wish they'd make them a little more interesting, is all. We're doing our bit, Mr Webb. Now give us a bad-ass trailer, and we'll stop our whining.
About The Author