Ugly Betty Ties The Knot!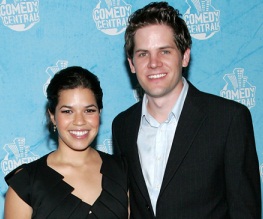 This summer is the summer of secret weddings as Ugly Betty star America Ferrera has managed to pull off a secret ceremony to her very long term boyfriend Ryan Piers Williams on Monday.
After meeting in college, and being engaged for a year, they finally decided the time was right. How romantic. Celebrity guests included various co-stars such as Blake Lively, Alexis Bledel and Amber Tamblyn, who worked with Ferrera on Sisterhood Of The Travelling Pants. Also present was Ugly Betty co-stars Rebecca Romijn, along with her husband, actor Jerry O'Connell, and Vanessa Williams, whose lavish home in Chappaqua, New York City was used for the event.
Ryan proposed to the America in June 2010 with a 4-carat round cut diamond worth about $70,000 – the perfect accessory for America's dress from Amsale's Christos line, as well as Fred Leighton jewellery.
Hopefully the couple will salvage enough honeymoon time before Ferrera begins voice work on How To Train Your Dragon 2.
Very best of luck to the happy couple!
About The Author