UK film luminaries protest against UKFC cuts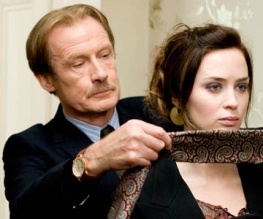 Yesterday's Daily Telegraph carried a letter signed by more than 50 prominent British actors which condemned the decision to attack the UK Film Council.
Bill Nighy, Timothy Spall and Emily Blunt were among those who asserted that "We owe any success we have had in our acting careers, to varying degrees, to films supported by the UK Film Council." They went on to acknowledge that although they could find work abroad, the cuts would hit film production staff much harder.
Earlier this week AusFilm head Jackie O'Sullivan intimated that Australian production companies could seek to poach UK film crews, but for those unable or unwilling to move Down Under prospects could be bleak. As well as a huge economic and cultural loss, the proposed cuts could have a real human cost for many of the 44,000 people directly employed by our film industry.
It's encouraging to see so many high-profile supporters of the UKFC, but the people making most of a media stir at the moment are those backing the campaign to save it through the associated petition and Facebook group. If you haven't signed yet, make sure you register your support for this vital bastion of UK arts excellence.
About The Author