Cats & Dogs 2: The Revenge of Kitty Galore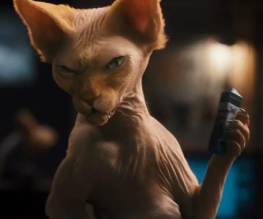 Your appreciation of Cats & Dogs 2: The Revenge of Kitty Galore will certainly be enhanced if you are, like myself, an animal lover. I have often wondered what my own little fluff-ball gets up to while I'm out of the house all day and remain convinced that she and the cat next door are plotting something during those long afternoons sunbathing. The film plays on this assurance that people the world over adore their pets. Director Brad Peyton claims that 'the picture of domestic harmony is just what they want you to see' and we are given a view to the potential extent of their secret lives. Although endearing, this is an age old concept that has been done and done better. Essentially, The Revenge of Kitty Galore is Homeward Bound with more gadgets and less sentiment.
The 'tail' goes like this…
Meet Diggs. A young German Shepherd who has been dropped from the police squad after a final display of unruly behaviour. Resigned to a life back at the kennels, Diggs can't even rely on the one human who cares for him to step in. But the overgrown pup is about to be sniffed out for a new type of mission and is recruited into a secret dog organization. Kitty Galore, a bald, mouse wielding, Siamese villain, has an evil plan to turn dogs and humans against each other forever. Diggs must step in to help the top dogs at Canine HQ prevent Kitty from releasing 'the call of the wild' in just 48 hours time. Can Diggs finally prove himself a worthy companion? Can Kitty Galore overcome a past thwarted by hair removal cream? Let the countdown commence.
Purrrfect Effects?
In my opinion, there is something rather menacing about computer simulated talking animals (with the exception of Babe of course!) However, there is no denying that the blend of live action, state of the art puppetry and computer animation in this film is executed with absolute precision. The four-legged roles were all played by flesh-and-fur animals, which meant that movements and mannerisms were realistically captured. The producers have prided themselves on the technological advancements from the previous film, allowing them to create a 'pet-centric' world to great effect; the revelation of the MEOWS' headquarters – where numerous cats could be found sitting at their computers, working out on the treadmills or just chatting by the fish-filled water cooler – is a triumph.
Was it funny?
Well, yes and no. There were certainly some creative ideas – a cat being squirted with a water pistol during an interrogation, dogs getting their humans to fetch sticks and some hippy felines high on cat-nip. Seamus the pigeon, voiced by rapper and comedian Katt Williams, provided much of the humour and the character of Mr. Tinkles, a twisted Alcatraz-bound Persian, bore an amusing resemblance to a fluffy Hannibal Lecter. The way in which the animals took their ridiculous mission so seriously was comical, but produced subdued smiles rather than a laugh out loud response.
The problem was that the main characters were so stereotyped that I couldn't bring myself to care about them. I got the sense that I had watched their predictable tale a thousand times before. While some children's films manage to capture the imagination of adults as well as kiddy-winks, this one really was designed for a younger audience and perhaps they would have rated it higher. With the likes of Pixar's Toy Story 3 around this summer, I don't see that this picture can realistically compete. All in all, though The Revenge of Kitty Galore might keep the kids entertained for an hour or so, this is one cat that shouldn't really have been let out of the bag.
First published at The People's Movies on 5/8/10
About The Author