Valentine's Day Breaks Holiday Records Despite All Logic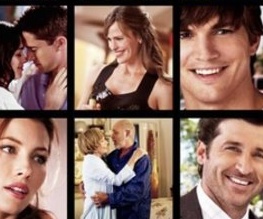 Sigh. And we only have ourselves to blame. Against all the odds, and the cries of "don't listen to them, they're shiny and plastic!", the trite and star-stuffed Valentine's Day has broken records in the US for for President's Day and V-Day weekends with an estimated $66.9 million over four days. And people say romance is dead.
Producer Toby Emmerich managed to bring out (nearly) the same film around the same time last year – He's Just Not That Into You, so New Line/Warner Bros figured that another chick-flick filled with stock characters would do just as well. And it turns out he was right. The studio spent just $50 million making the generic flick and banked on its timeliness, plus simple face recognition marketing with women. Are we really this simple? Yes, yes we are.
And it gets worse. Based on the success of the cookie-cutter premise of Valentine's Day, New Line/Warner Bros has put another film, New Year's Eve, into production. No word on the plot yet, but I don't think it'll take much speculation to hit on "a bunch a of crazy characters (distract them with very very famous people) do stuff for a day. And it's really nice and cute and there's a rush to the airport at some point". Brilliant.
What's next? Let's take today as our inspiration; Pancake Day, starring Hugh Grant, Renee Zellweger, Julia Roberts and.. erm… oh everyone else in the world in a twisted tale of flour-based hilarity. What happens when your love depends on a single flip? It could happen. Seriously.
What did you make of Valentine's Day? Will you be rushing to see our home-made Pancake Day? Let us know below…
About The Author