'Valleywood' studio faces sell-off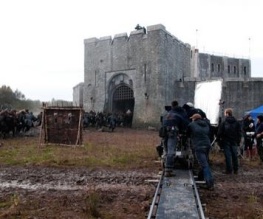 Dragon International Film Studios, the Welsh studio nicknamed 'Valleywood', is facing the threat of a sell-off despite only having produced one film.
The £330m project, which has been backed by Richard Attenborough, was unveiled in 2001 but has been dogged by problems throughout its construction atop a former opencast mine. Ironclad, the first and only film made at the studio, was released on Friday.
Both the companies which own the 60,000 sq ft site went into administration three years ago, and Price Waterhouse Coopers have revealed that another two companies currently backing the project owe £15m to creditors. Valleywood has received government support but its development was slowed by problems with grants and an infestation of rare dormice (we hate it when that happens).
Ironclad, for which a full-size replica of Rochester Castle was built onsite, was originally scheduled to shoot in Hungary but came to Wales due to a dip in the value of sterling. It remains to be seen whether any other film will even get as far as making Valleywood its second choice…
About The Author