War Veteran Sues The Hurt Locker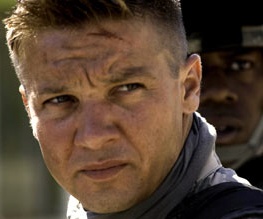 Things are just getting worse and worse for the team behind The Hurt Locker. The Oscar front-runner is being bashed from all sides, with a war veteran today announcing that he plans to sue the team for using his life-story in their film. This comes just one day after one of their producers was banned from the Oscar ceremony for trying to sway Academy votes. Oh dear oh dear.
Jeffrey Sarver, a 38-year-old sergeant in the army's Explosive Ordnance Disposal team claims he was the model for the central character Will Renner in The Hurt Locker. He and his lawyer point to the fact that the screenplay was written by Mark Boal, a journalist who was embedded with a team of bomb disposal experts in Iraq in order to write a report for Playboy magazine that came out in 2005. Sarver says he was one of the soldiers with whom Boal engaged.
The lawsuit claims that Sarver gave Boal some of his best lines – including the film's title itself and the nickname for the Will James character, "Blaster One", which was Sarver's call signal in Iraq. The case has exploded onto the scene, raising issues of the exploitation of war veterens, respect and honesty within the industry. Though the outcome could ruin the film's reputation, it's too late Oscar-wise, with the final votes being cast yesterday. We'll see how this unfolds, but if the case holds up, it will be a massive blow to the low budget war epic, and to everyone who was involved in making it.
About The Author