We Need to Talk About Kevin wins top Evening Standard award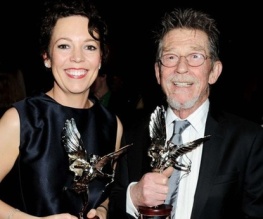 The stars were out in force last night for the Evening Standard Film Awards, with yet another Best Film award going to Lynne Ramsay's We Need to Talk About Kevin. We totally had a chat with her afterwards and told her to adapt Vernon God Little, so if she does we want the Oscar for our office.
The main acting prizes went to Michael Fassbender for Shame and Jane Eyre and Olivia Colman for Tyrannosaur. Screenwriter Abi Morgan picked up Fassbender's award for him (he was busy shagging, probably) and Olivia Colman had a little cry because she's the loveliest person ever.
John Hurt received the Alexander Walker Special Award for his extraordinary contribution to cinema, Senna won Best Documentary and The Guard scooped the Peter Sellers Award for Best Comedy. In a speech read out by star Mark Strong, writer-director John Michael McDonagh said he was "sure it'd go to Tyrannosaur". You silly, John, that isn't a comedy!
Best Screenplay went to Andrew Haigh for Weekend, Black Pond directors Tom Kingsley and Will Sharpe won Best Newcomers and cinematographer Robbie Ryan won the London Film Museum Award for Technical Achievement for his work on Wuthering Heights.
Also, we had a marvellous natter with Tom Hiddleston – he pretended to be amused when we said "Hey Tom… we have an army", which should qualify him for an acting prize all on its own. What a sweetie.
Do you think anyone was robbed last night? Let us know below!
About The Author