We pity the fool… who isn't stoked by this trailer.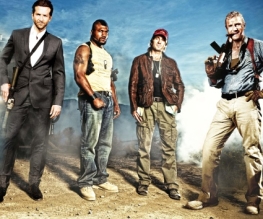 Last week we expressed our cautious trepidation about the new A-Team film starring – amongst others – Liam Neeson as Hannibal and District 9's Sharlto Copley as "Howlin' Mad" Murdoch. Our main worry was which direction the film was going to take, with director Joe Carnahan having to choose between two equally unenviable routes – campy nostalgia or a po-faced explode-a-thon that resembles the TV series in name alone.
Well, here it is, folks: the first teaser trailer. And if this is anything to go by, we're chuffed as pie to report that Carnahan seems to have achieved the impossible and blended the tongue-in-cheek stylings of everyone's favourite 80's mercenaries with a modern eye for action. It also explains why BA didn't want to get on no plane, too.
We've gone from our usual sneering, embittered selves to being… well, kinda excited. Could we finally be seeing a decent 80's-style remake (hello Fame, Miami Vice and countless hundreds of others)? It may be bad form to go by the teaser trailer alone, but if just this once we can… then yup! It sure looks like it.
What are your thoughts on the new trailer? A-Team or Z-Grade? Leave us your comments below.
About The Author